Paige and Analize's Rome 2 Home Photo Diary
17 days, 1256 miles, 62,252 feet of climbing, a max heat of 38C, and more than 70 punctures on route.. This summers challenge was mammoth.
We cycled all the way from Rome, back home to London with a group of 20 staff, young people and volunteers/friends of Regenerate.
A big part of why we do these challenges is to inspire everyone who takes part and follows our journey to face what they believe to be the impossible, see that they can push through mental barriers and do anything they put their mind to, in turn encouraging them to dream BIG.
Simultaneously the hardest but best thing most of the team has ever done, we faced 4am starts, extreme weather, dead ends, many gravel paths and punctures, tears, a few falls, and steep inclines together. In spite of this, the morale was always raised again and we carried on, focussed on the positives such as the amazing scenery, fantastic tans we were getting, and many coffee breaks! Supporting each other through all the challenges led us to raise a huge £90,000 which will make a massive difference in helping Regenerate to keep running The Feel Good Bakery, and giving jobs, mentoring and support to 50 young people who are facing barriers to employment over the next year by opening a Feel Good Coffee Shop alongside our carts.
We are very lucky that we were able to take 4 young people on the trip, and seeing Analize, Dionte, Isaac and Paige succeed, grow and exceed the expectations they had of themselves was definitely our highlight.
Thank you to everyone who has supported this journey in whatever way, we want to share our journey with you and hope you enjoy our photo diary and thoughts from Analize and Paige!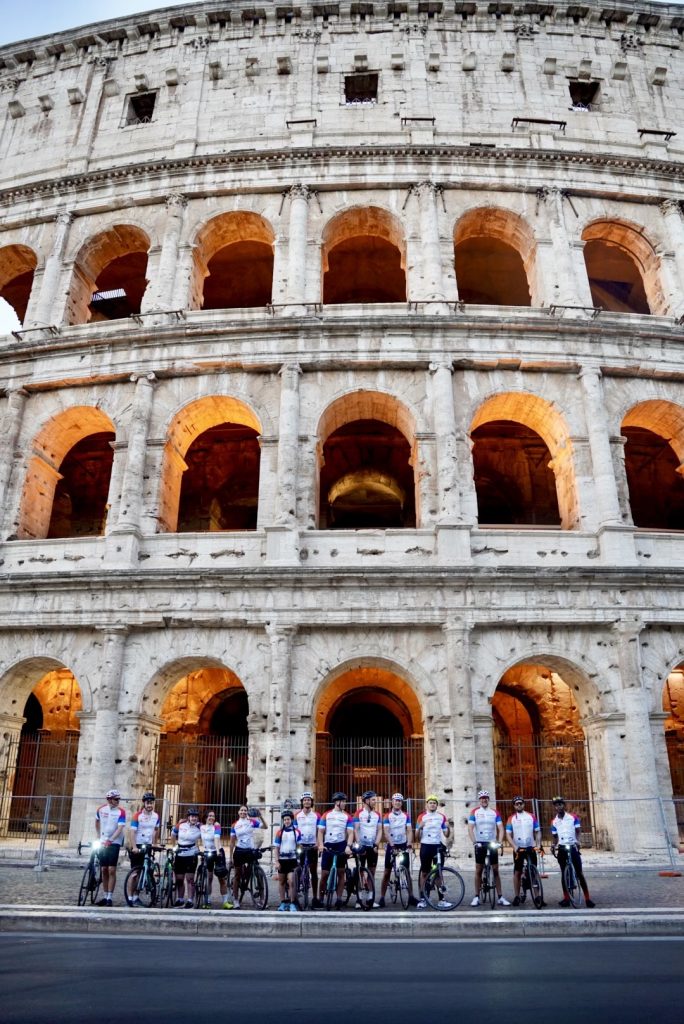 Week 1
A hard first push through 4am starts to beat the intense heat of Italy, lots of punctures and learning a lot about how to choose the best routes and avoid fields and dead ends!
"I know Regenerate through 'The Feel Good Bakery'. I've been working there for 7 months now. I have learnt socialising with others, communicating with young people like myself, it's also helped myself get into a routine with getting out of bed and knowing I have work, showing me discipline, and how to work with other people.
Before going on the ride I didn't think it would be easy I thought it would be a very difficult challenge however, I had to change my perspective and my mindset to think how amazing I would feel once I had finished it.
When I got to Rome and was about to leave I think the hardest part was settling in.. yes there was a lot of emotions but one thing I would say it made me stronger as a person. The funniest part is the very first day I fell off my bike, and my phone fell out of it's holder and was broken for the whole first week… yes there was falls and yes phones cracked however I learnt to accept the challenges and see the funny side.
The biggest challenge was probably the Alps, it had me in tears half way up but the thought of me saying to myself I achieved it pushed me through.. it now makes me happy just thinking about it.
One thing I learnt from the experience was don't be afraid to do something. Your capable of doing anything if you put your mind to it. The feeling of accomplishments you have when you think you couldn't do it is the best thing. Anything is possible if you make it possible and yes I would definitely do something like this again" – Analize
"I have been involved with Regenerate for a couple years now, I went to the youth club as a place to enjoy myself after school and last year I went on the West Highland way trip which helped me grow my confidence massively through learning how to talk to new people and making new friends.
Before the bike ride I was excited about travelling to new countries I've never been to and I was ready to put myself through new challenges, however I was a bit nervous as I knew it was going to be hard.The trip went above and beyond my expectations though, first of all I didn't really know what to expect but it was better than anything I would've ever thought of doing.
The biggest challenge was definitely cycling up the alps as we were cycling for hours uphill and it was painful, but when we got to the top it felt so good and I was really proud of myself.
I don't have one highlight moment as all of the trip was so amazing, however every night for dinner I loved how we would all sit together and eat and talk as I feel it all connected us as a group.
From this experience I learnt that if you put your mind to something it is always possible and I also learnt that I am much stronger than I thought I was. I had a few doubts but i just pushed them aside when cycling and now I feel like anything is possible." – Paige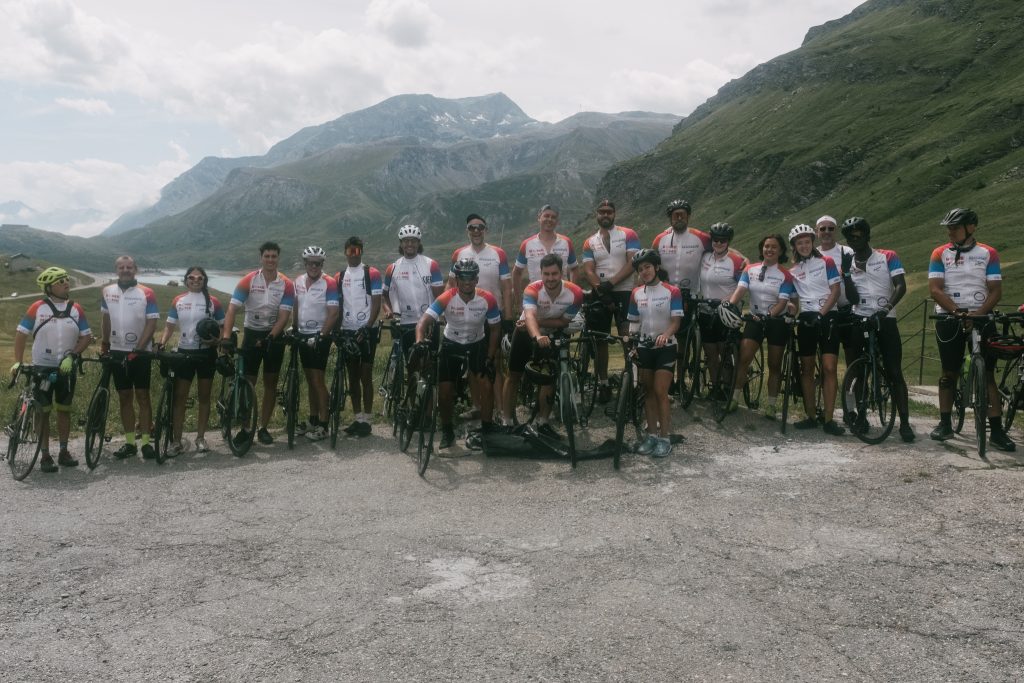 Week 2
Paris – London
Almost there! After a well needed rest day in Paris we set off for the final 3 days of the journey with a mix of excitement but also feeling a bit gutted that this once in a lifetime journey was almost over! 2 days of cycling took us to Dieppe where we crammed into the minibus with 20 bikes to board our rocky ferry back to England!
The Final Day
On 6th August were joined by more amazing friends of Regenerate, and with a total group of about 30 riders headed home from Brighton Pier. We arrived back home to our base on the Ashburton, regrouped and then headed to our TFGB coffee cart at Battersea Power Station. Riding in to a huge welcome from friends, family and supporters was an amazing feeling for the whole team.
Thank you to everyone who supported this journey, every sponsor, like, kind word, and beaming face at the finish line made it all possible and kept the team going. Thank you to everyone who joined us on the ride, a massive shoutout and thank you to Chris and Rachel our minibus crew who's tireless support, food prep, and care helped us power through to the end and finally thank you to Philippe Lintern and our company sponsors who made the trip possible: Antal International, Apparent Properties, Burns Price Foundation,  Systech and The Lowe Group, Richstone Properties, The Lockwood Charitable Foundation, and finally
If you'd still like to support, it's not to late to sponsor us here! And if you'd like to get involved in any future Regenerate challenges, please get in touch or follow our Instagram and Twitter for updates.