Daring to Dream – Kenya 2022
After nearly three years of no travel, a very special trip took place in April. Regenerate have been working with and taking teams of young people to visit two amazing projects in Kenya since 2000, and this year we were really lucky to be able to take a team out to spend time with these two amazing communities again.
The Regenerate team visited our locally run partner programmes, The Tumaini Foundation in Nairobi, a community charity providing meals and support in a slum area, and Sure 24 in Nakuru, who provide homes for children coming off the streets and/or who have been orphaned. Together, the three groups became one big team, and Regenerate organised activities to take part in, which allowed them to build strong bonds, share ideas, knowledge and visions, and dare to dream up amazing possibilities for the future as well as plans on how we can work towards them collectively.
In addition to visiting and getting involved in the day to day activities of both projects, here are some highlights of what the team got up to… This trip was a long time coming, postponed since 2020 due to Covid-19, but it was certainly worth the wait!
Zip lining trip through the forest – An amazing yet terrifying experience that took everyone out of their comfort zone, East Africa's longest zip line took the team swinging over 2.2km of the Kereita Forest in Nairobi. This was an intense physical and mental challenge that Katie, our youth service lead, thinks was an amazing chance to build confidence and resilience:
"Everyone took the opportunity to overcome their fears and go for it, leaving us feeling so accomplished and inspired afterwards. It was also a natural space for the team to bond as we all created an encouraging and supportive environment together."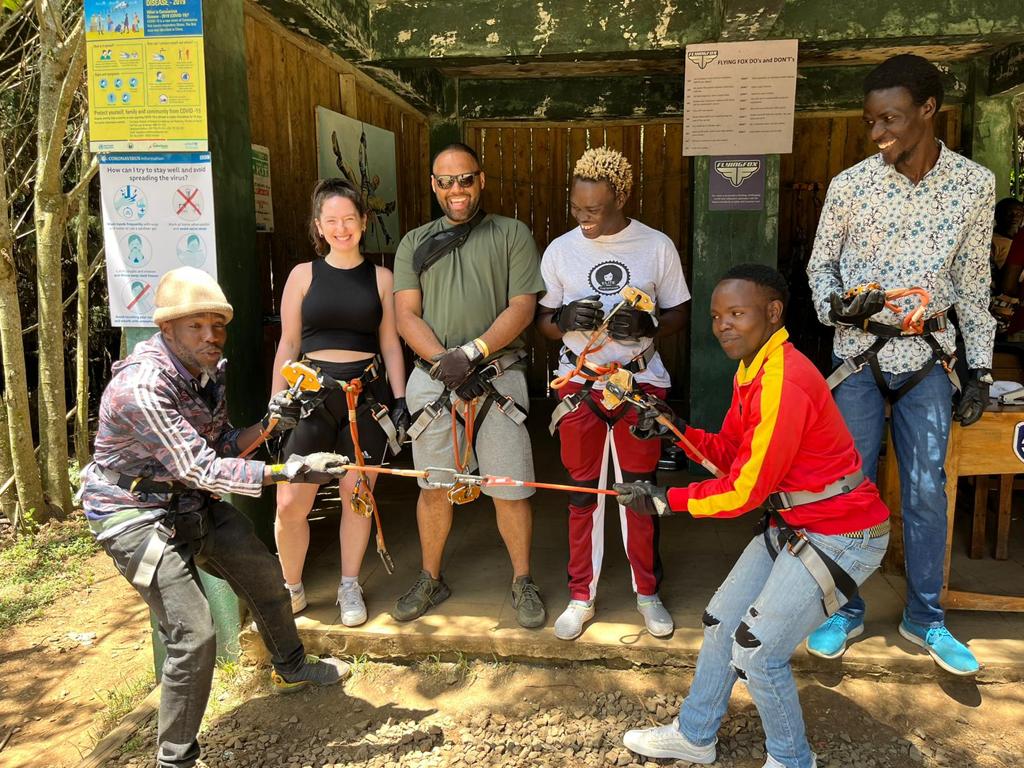 At the 'Dare to Dream' Conference, also held in the forest each organisation hosted a workshop where they could share their wisdom, and the group was randomly split to rotate around these. This allowed everyone get to know more about each organisation, share ideas, and learn from each other.
The workshops included things like creating vision boards, exploring who we are, and coming together to think up new plans and ideas for the future; new collaborations, new projects, and most importantly more growth.
Zarina really enjoyed the collaborative nature of the conference, and the trip overall:
"It was so beautiful to have one group from three very different backgrounds experiencing new things together and learning from each other, I will especially take away the positive outlook I observed and try and hold that in everything I do." 
Regenerate's chair of trustees Lisa also found this experience inspiring, dreaming dreams together no matter how big:
"The thing that struck me the most is how aspirational the teams from Sure 24 and Tumaini are, they truly believe that anything is possible! That's a lesson I will definitely take home with me"
Safari trip to Nakuru National Park allowed the team to share a new experience and bring joy to our friends and the young people they work with. Bonding through mutual excitement over animals they had never seen so close up, this was definitely a highlight for everyone.
Overall, this was an energising and special experience. Andy who led the trip, came away feeling particularly inspired:
"the special thing about this trip was the way young people from London, Nairobi and Nakuru did so many activities together, building on our friendships across the three organisations and learning so much from each other. There was a real collaborative atmosphere where we could all learn from each other equally.
We have all come home with very special bonds formed, a growing understanding of ourselves and a new sense of hope and vision about both personal and collective dreams. I definitely am feeling inspired and have a new clarity about how we can go forward and make them come true."
We are really grateful to have been able to make this trip happen after the last couple of years, and can't wait to see what the future holds as we continue to dare to dream and thrive together!